How to secure your showroom
If your business has a showroom or storefront, you will most likely be dependent on it to demonstrate what your products can do, display your goods in the best, aspirational way and ultimately draw customers in. Showrooms need to look their absolute best in order to build brand loyalty and maximise sales; consumers are unlikely to make a purchase from a showroom that looks neglected.
Thieves and vandals are an ever-present worry for businesses with showrooms and a problem that requires strict attention. With high value products on display: cars, designer goods, jewellery, or tech goods, for example, evidence of slack security is an invitation for would-be thieves, who see a soft target where the reward outweighs the risk.
Episodes of theft or significant damage can be a worrying prospect in terms of staff and customer safety and, in extreme cases, it can force you to abandon your showroom entirely for quite lengthy periods, affecting sales. Needless to say, such crime targeted at your showroom is less than ideal for good business.
To help protect your showroom, we have provided some advice and simple security measures that any business can adopt.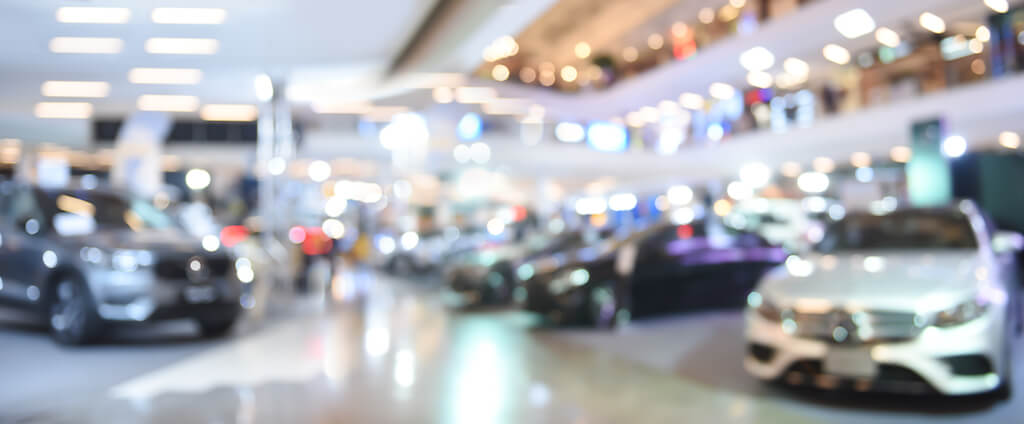 Use Security Lighting
You might not think that turning a light on would be an effective deterrent for a would-be vandal or thief, but security lighting is one of the most effective security measures, despite its simplicity. Security lights are bright motion-triggered lights, designed to deter potential intruders by illuminating them and the area surrounding them. This is extremely effective at dissuading intruders, especially when combined with cameras.
Install Cameras
Security cameras are the cornerstone of any effective security system. They will record everything that happens and provide you with an irrefutable record of events. You can buy infrared security cameras that are able to pick up images in darkness, but they can and should also be combined with security lighting to ensure that the cameras can pick up the clearest visual evidence.
Make Cameras Prominent
The ultimate goal of security systems is not to catch thieves and vandals but to deter them. To this end, making your security methods as prominent as possible will ensure that any passing thief knows to not even attempt an attack on your showroom. This is why homes and businesses with security systems and cameras will advertise that fact - they would rather their cameras scare off a potential intruder before causing any damage.
Hire Security Guards
No electronic security measure will ever be as reactive, versatile and effective as a trained security professional. A security guard is experienced in adapting to the range of situations that they might face in a way that no machine ever can. With the ability to analyse, observe, change location, or use verbal warnings, for example, a guard outperforms technology in an abundance of ways.
Guards can work in plain clothes, mixing with customers for a more discreet service or be clearly uniformed to create a more obvious deterrent by the entrance. Security guards are also effective during night hours, which can be a more popular time for criminals to attempt a break in.
Many businesses avoid hiring private security firms because they assume that the cost will be too high or they do not realise how accessible these services are. But hiring a professional security guard is not just effective; it also provides excellent value for money. As with any service, some security firms are much more competitively-priced than others so it is worth gathering quotations from several sources.
Furthermore, insurance companies might actually reduce your premium, if they are informed that a trained guard is always present, especially during night hours. Business owners must weigh up the cost of goods being stolen or vandalised and the possibility of having to close altogether for a period, against the cost of a reasonably-priced, reliable manned guarding service.
---
If you are interested to learn more about how your showroom could benefit from a professional security guarding service, get in touch. 1st Class Protection officers are experienced to work in customer-facing roles; extensively-trained, polite and presentable, a 1st Class guard could be just what your business needs to ensure the security of your showroom.