1st Class Protection provides a wide range of mobile patrols for businesses and homeowners. Our patrols offer complete protection for manufacturing zones, gated communities and neighbourhoods, commercial complexes, construction sites and many other large clusters of properties. Beyond standard security, our patrols also handle screening, alarm response and other matters arising.
The benefit of patrols
Residential and commercial patrols have long been recognised as a proven deterrent against criminal activities. Random Police patrols are not frequent enough and neighbourhood watch committees have neither the training nor experience to effectively deal with potential security threats. Analysis of crime statistics and trends by law enforcement agencies clearly demonstrate that the presence of uniformed and clearly-signed mobile patrols significantly lowers the risk of unlawful entry, theft and vandalism in residential and commercial locations.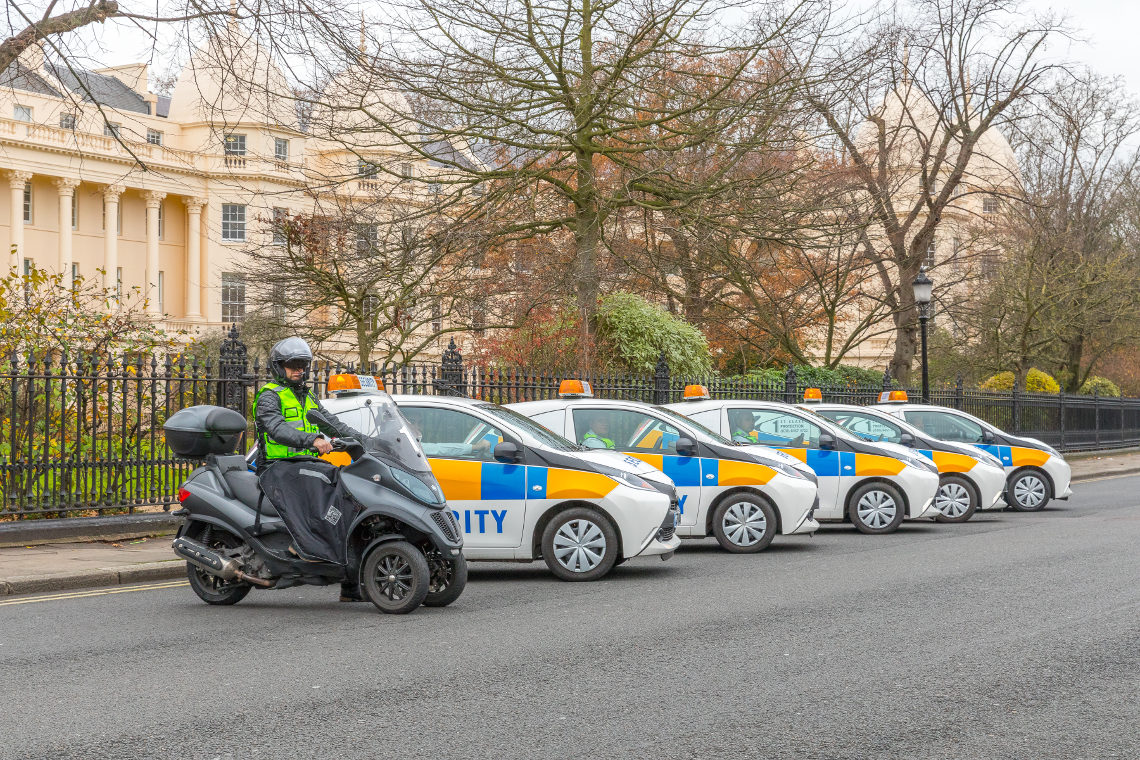 Our patrol teams provide the following services:
• Scheduled/covert patrols 
• 'Meet and Greet' (patrol officers meet customers at their car and escort them to the door)
• Stationary officers and vehicles in high-risk locations
• Foot patrols in congested zones
• Property checks (including vacant units)
• Manning gates, entrances and secured areas
• Locking and unlocking of premises
• Perimeter checks 
Our uniformed teams use vehicles with prominent amber-coloured beacon lights and bold company logos and lettering to ensure high visibility to any potential trespassers, day or night. The setup is complemented by foot patrols, providing an extra deterrent.  
We are also proud to use patrol vehicles which have low emission engines. This is part of our commitment to environmental sustainability. 
Our Patrol Teams
Our mobile patrol guards are trained to identify and react instantly to signs of intrusion or potential threat to clients, visitors and properties, and our working relationship with law enforcement means we can quickly seek their support, if and when required, meaning our clients look forward to a safer and more secure working or living environment. 
Our team are also trained in First Aid and can provide rapid first response to emergencies. We will alert the police or emergency services, but we will also be there to protect people and manage any complications. This is invaluable considering that police resources are increasingly stretched, and response times can often be delayed, especially in the London area. 
At 1st Class Protection, we ensure that our security personnel receive comprehensive off and on-site training to ensure that they will be able to handle any scenario. Standard operating procedures are also established to create internal standards which must be adhered to. A daily log is maintained, and strict patrolling guidelines are observed by our officers, which are then reviewed periodically by team leaders and managers. Unscheduled visits are also made to ensure compliance of our security policies.
'Meet and Greet'
One of the particular concerns our customers have is returning home to an area in which they feel unsafe, whether it be due to risk of trespassers or the particular location or time at which they return. With our 'Meet and Greet' service, patrol officers will meet you at your car and escort you to your front door, having already checked the area prior to your arrival.
---
To learn more about how 1st Class Protection can establish safer neighbourhoods and workplaces in your area, call us today and we will be happy to provide a complimentary quotation and discuss a security solution that will work best for you.