Construction Site Security Services in London & UK
With the presence of expensive materials and machinery, construction and industrial sites are regarded as extremely high-value targets. Having construction site security systems and plans in place will enable companies to tackle loss prevention by way of expensive repairs, parts, costly machinery, and raw materials. Along with safety concerns for staff and the expected consequent delays that will impact on construction progress, it is wise for companies to partner with a competent security firm to ensure the absolute protection of their assets, people, and premises. Furthermore, the presence of a professional construction security team will often drive down any insurance premiums – something that's certainly worth investigating.
With our comprehensive range of construction site security systems, at 1st Class Protection we will confidently protect your assets and employees, making us one of the leading construction security companies in London and the UK. Our team of experienced security personnel provide a bespoke solution for every client when it comes to construction site security in London. Our combination of highly trained security officers with our proven standard operating procedures and advanced technologies means choosing us for on-site security will provide you with a comprehensive service.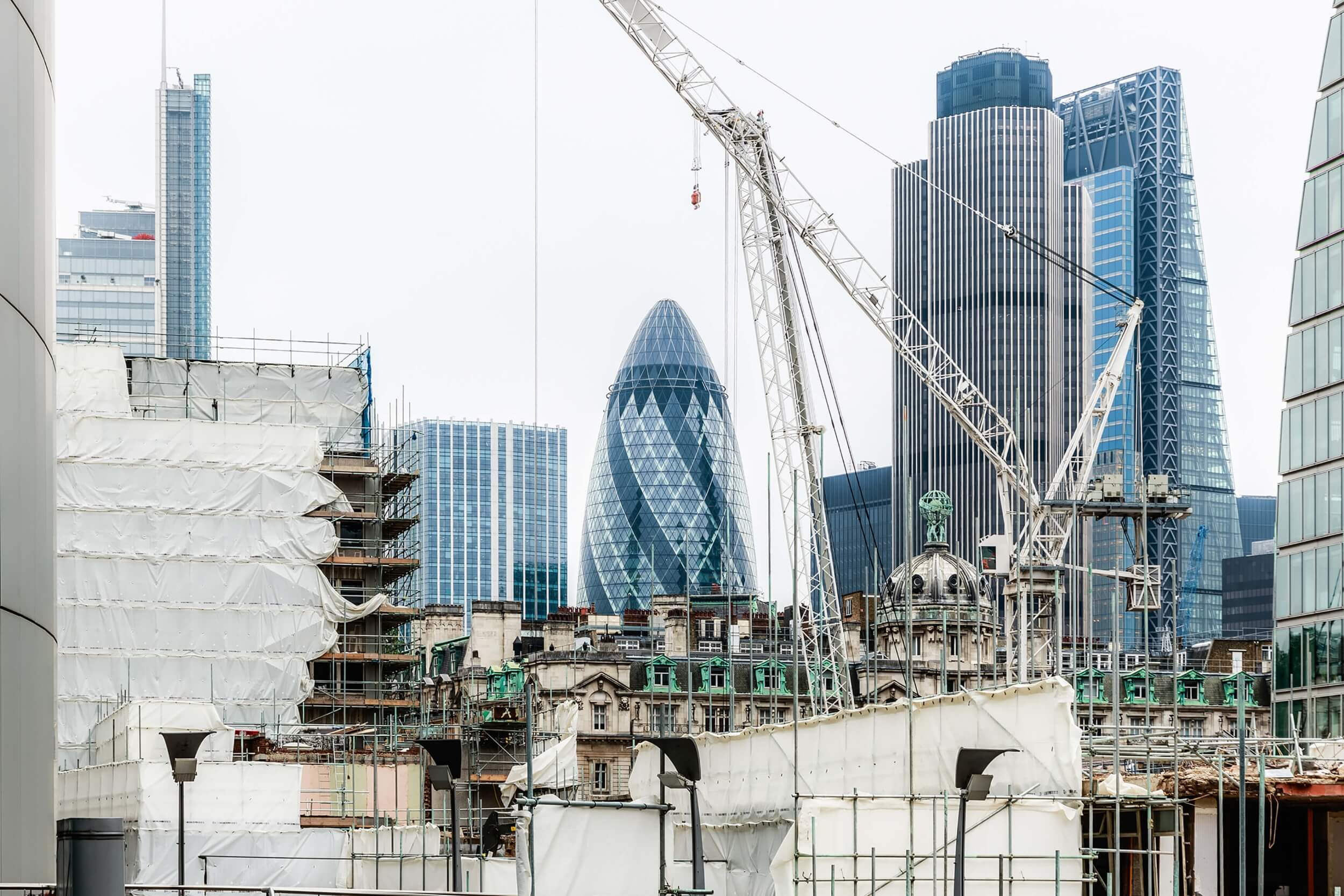 How we will Maximise your Construction Site Security:
Trained Professionals in Construction Site Security Systems
Hostile environments require particularly resilient security officers. Our guards, many of whom have law enforcement and/or military backgrounds, are professional and assertive, yet personable and highly trained to work in a construction or industrial environment. Our teams provide a clear, visible deterrent against potential criminals, and can carry out many protective, on-site security measures. This includes manned guard services, a comprehensive concierge service, reception, managing visitor books and logs, monitoring storage areas, and answering calls. Whatever it is you require, our construction site security systems cover all areas to ensure your site is always safe and secure.
Protection of Tools, Machinery & Raw Materials
When considering a construction security plan, site managers must consider any vulnerabilities that may lead to theft and pilferage of valuable assets such as machinery, raw materials, and tools. At 1st Class Protection, we can assist you in construction site security methods, such as creating a storage area and by implementing an inventory list that will be strictly protected by our on-site security guards. Hourly check points, random checks, entrance screening and mobile patrols that will be carried out through the night, will all contribute to making sure your expensive items of machinery remain untouched.
Eliminating Trespassing & Unauthorised Entry
On site, our construction security team will identify any potential weaknesses and establish a perimeter so that they can be immediately managed or, where possible, eliminated. Thereafter, we will implement entry screenings and conduct regular perimeter patrols so that only those authorised have site access, especially after work hours. Additionally, we can use X-ray machines to screen packages, ensuring that no dangerous devices or substances enter the site. Construction security requires a rigorous entry system for anyone trying to gain site access but also within certain areas of the site where access might be restricted. The construction security team are therefore responsible for designing a solution to account for any such potential breaches in internal security.
Emergency Response
Construction sites reportedly have the highest number of workplace accidents across all industries, except for drilling and mining. It is therefore important for us to ensure our security guards can handle any emergency response situations on site when they arise and that they are First Aid trained as standard. If necessary, we will also contact the emergency services and the Police to ensure you have all areas covered dependent on the incident.
To find out more about how 1st Class Protection can help tighten your industrial and construction site security, why not give us a call today. We will be happy to provide you with a complimentary quotation based on your bespoke solution.
Construction Security in London FAQs
Why Choose 1st Class Protection for Construction Security Services?
Our clients choose our security services for many reasons, and we cover a wide range of different sectors including construction security, retail security and event security. We have built ourselves to be one of the leading private security solution providers in London and for nearly two decades we have continually improved and used innovation in our security methods. Our commitment to offering the very best industrial and construction security does not differ compared with other sectors, and we always work towards the same fundamentals: protecting life, protecting property, assets and premises, preventing and deterring crime, violence and monetary losses, as well creating and promoting a safe environment. Our security services are tailored to your needs, whether you're seeking hotel security in London, corporate security, or even cleaning services in London. No matter what you need, our bespoke solutions are offered at competitive prices, so request a call back today to discuss your requirements.
Do You Provide CCTV Monitoring for Construction Site Security?
Yes, we do offer CCTV and security surveillance services which we are happy to discuss in more detail with you. We can install and maintain CCTV camera systems using state-of-the-art technologies that our team of experienced technicians can help you plan and setup, we make sure every angle is covered by CCTV, including implementing car park security. Every industry and sector have different requirements when it comes to surveillance, so we are happy to discuss what your individual requirements for this would be.
Do You Have any Construction Security Testimonials?
Over our many years of offering bespoke security services, we have worked alongside a range of different companies. When it comes to construction security, we have worked with clients, all with slightly different needs. You can read through our testimonials, which include our long-standing client - My Construction Ltd, who said they would "highly recommend" our services and that "the quality of their guards is such a reassurance to everyone on site." To find out more about how we can provide first-class construction security, get in touch today.